Ray Sikora was born in 1937 in Winnipeg and moved to New Westminster, B.C. when he was nine.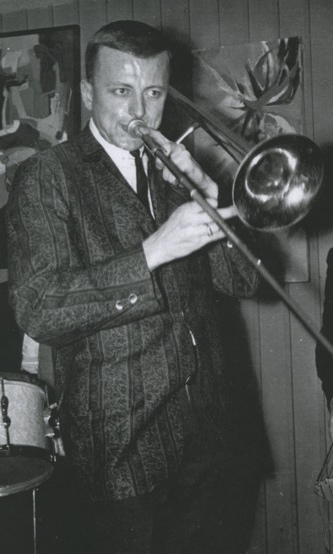 Two years later Ray says he "discovered music" on an abandoned piano in a back room of his parents' house. When he was fifteen he took up the euphonium and joined Fred Turner's New West Lions Club band, moving on to clarinet and bassoon and finally trombone.
He organized a high school swing band that practiced Sunday afternoons in the basement of his family home. The neighbours organized picnics on the lawn in front of the house so they could sit and listen. Ray missed his senior year of school because of a serious bronchial infection, which was an announcement of an ailment that would come back to haunt him in the latter part of his life.
Ray graduated from high school in 1957 and immediately began playing trombone at The Cave Supper Club and also performing at the Jazz Workshop on the CBC.
Ray went down to Westlake College of Modern Music in Los Angeles in 1958 and, as part of his study, played with a jazz quartet that included the famous singer Gordon Lightfoot on drums. That quintet won a national inter-collegiate jazz contest, which took place at Howard Rumsey's famous Lighthouse Café at Hermosa Beach, California.
After school Ray went on the road with the Les Elgart Band, and then, in the summer of 1959, he joined the Jerry Gray Orchestra. In the fall of that year he went to the Stan Kenton as solo trombonist. He made three tours of the U.S., Mexico, and Canada, and recorded "Cuban Fire," among others, with Kenton.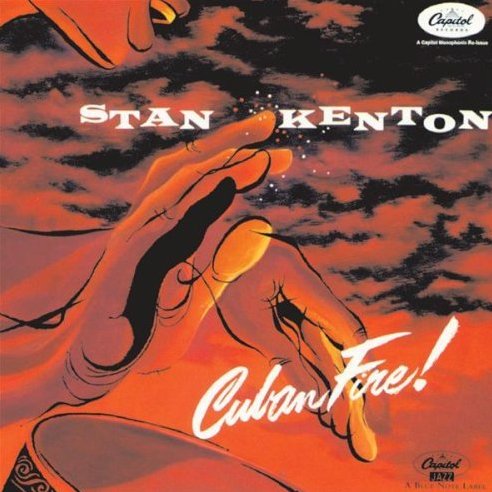 Ray was Kenton's star trombone soloist when he played at Carnegie Hall in New York City and shared the bill with the Count Basie Orchestra. One can only wonder whether Basie might have looked Ray over at that point. Ray moved back and forth between Los Angeles and Vancouver for the next few years, both playing and arranging, but then his lungs began to deteriorate.
In 1963 he underwent an operation that removed portions of both lungs. Using yogic techniques, however, Ray restored himself and began performing in Vancouver with such touring stars as J. J. Johnson and Cannonball Adderley as well as working again at CBC radio and television on a music programme called "The Ray Sikora Show."
Late in 1964, Ray moved to Toronto and played there in a wide variety of bands, including Phil Nimmons and Nine and Rob McConnell's "Boss Brass", and then went on the road with the Glenn Miller Orchestra. He was extraordinarily busy during these years, recording, composing, and arranging. In 1966 he joined BMI as a writer/arranger, publishing his work under the name "Arokis Music," his name backward.
As well he scored the musical productions for the TV productions of the Jackie Gleason Show. In 1967 he recorded with the rock group The Guess Who. That year, too, he married Glenda Christine Giles, and the two of them went back to Los Angeles.
There, Ray wrote the music for Doc Severinson's Tonight Show band, the also the Andy Williams' show, and arranged charts for the Woody Herman and Louie Bellson bands.
He played in various bands such as Sy Zentner, Bill Barry, and Dee Barton and worked with the immortal big band arranger Jimmy Dale on several television shows.
His trombone work was so outstanding time that J. J. Johnson selected him to accompany him on his road tour as his backup trombonist. In 1977 Ray played in Doc Severinson's band at a private party for Princess Grace and Prince Rainier, and then joined a studio orchestra for a Lou Rawls' album recording.
His health began to deteriorate again in 1971, complicated by asthma and emphysema. He was forced to curtail much of his trombone work and moved to Edmonton in 1972 to write and arrange for the Tommy Banks television programme.
He returned to Vancouver in 1975 because of serious health problems. Restless still, he organized a quartet and performed at various clubs such as The Cave, Basin Street, the Classical Joint, and Hot Jazz Club.
In 1986 he was diagnosed as having COPD, "chronic obstructive pulmonary disease," and eventually went into hospital with recurring bouts of pneumonia. Coming out of hospital in 1987 Ray accepted a position at Vancouver Community College to organize a stage band, and this became a project that was so successful that it grew into two classes and two separate bands.
In 1989 he bought property on North Pender Island and made plans to establish a music camp there for young people called "Arokis Centre", but it fell through due to a lack of funds, and he had to transfer the project, now called "Arokis Centre for Music Society", back to the College.
He experienced severe heart congestion in 1991 and had to abandon the entire project. For seven years Ray languished in a care centre and passed away on November 20, 1998.
He was 61 years old. The Vancouver jazz community celebrated his musical life by performed his music at his funeral at St. Michael's Church in Burnaby, and then in a special programme that was broadcast over the CBC. The two origianal Ray Sikora stage bands under the aegis of the Arokis Centre for Music Society continued at the college for several years but eventually left and became a non-profit society, "The Arokis Centre for Music Society" which performs under the names of "Impressions" and "Urbana" big bands.